Led by Peter Clark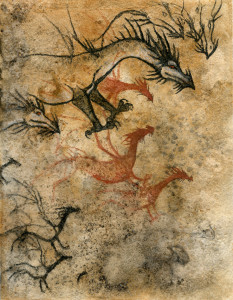 Woodbury, VT
April 7 & 8, 2018, 9am to 6pm each day
"As far as we can discern, the sole purpose of human existence is to kindle a light in the darkness of mere being."
– Carl Jung in Memories, Dreams, Reflections
"We are so captivated by and entangled in our subjective consciousness that we have forgotten the age-old fact that God speaks chiefly through dreams and visions."
– Carl Jung in The Symbolic Life
In a deep shamanic exploration of self awareness, meet the spirit of Dragon, the great transformer of obstacles and consciousness. As a timeless and universal archetype, Dragon plays the role of prime shifter of our psycho-spiritual projections. In this workshop you will journey with Dragon to dispel illusions of the ego and heal hidden wounds of the mind and heart. Traveling in the compassionate spirit worlds into the Dragon's Cave and the Castle of the Psyche, you will have the opportunity to come face to face with your essential self – that aspect that embodies your spirit without the overlay of ego. This provides the basis of the next phase of your physical, mental, and emotional existence.
Prerequisite: Shamanic journey experience.
Tuition: $240 (Early bird $225 if paid in full on or before March 7, 2018)
Pay online with a credit or debit card, or with your Paypal balance. Paypal account not required for credit or debit card use. Or mail a check made out to Peter Clark, 644 Log Town Road, East Calais, VT 05650. Please note workshop policies here regarding cancellation and refunds.
Selected comments from past participants:
"This workshop fit in perfectly with the flow of my greater journey of personal work. A fabulous complement to Pathwork, Brennan work and other modalities of therapeutic healing. I gained deep, useful insight into things going on in my life now, as well as valuable tools I can come back to again and again. Thank you!"
"In two days there were so many revelations, healing moments, and food for thought and practice for future journeys. Peter is a wonderful and warm teacher."
"Awesome class. Educational, experiential, awakening."
"Would highly recommend."
"As usual the weekend has been a wonderful experience and extremely revealing to me and my soul self!"
"I would take this class again, there is so much content. Thank you!"
"I loved this in many ways – especially how it expands upon the possibilities of shamanic work. Great stuff – just what I think I needed at this time – the spirits know!"
"Excellent workshop on every level, went to profound places. I always look forward to the next workshop with Peter."
"Thank you so much for facilitating this workshop. I loved it. Looking forward to your next visit."
"Excellent workshop, lots of feedback, great group of participants. Peter's explanations were very clear."
"All in all, I have found the experience very rewarding on all levels… I feel I will now be more at ease with all that is being given by all the great masters. It gave me confidence to go on… I feel blessed by this workshop."
"Thank you Peter. Well done – much healing and greater understanding."
"Thank you for an excellent experience. The days with you and the participants in the circle were enriching."
"I really enjoyed all the journeys. The circle was really safe. It was really easy to share. I felt understood and accepted."
"Come back again to share your gifts of knowing. It has been my honor to be in your presence. You too, are shifting – it looks Real and Beautiful."